Broken Spring Replacement
Undoubtedly, one of the worst things that can happen to your garage door is a broken spring. At the same time, this is more or less inevitable as these components eventually break without showing any signs of wearing or malfunction beforehand. When the spring is broken, the door will be stuck in place. You may disconnect the opener, but don't touch anything until our technician arrives. You can rely on us for fast emergency assistance in such situations. The replacement involves removing the old spring and installing the new one. Our replacement springs are strong and have a long useful life.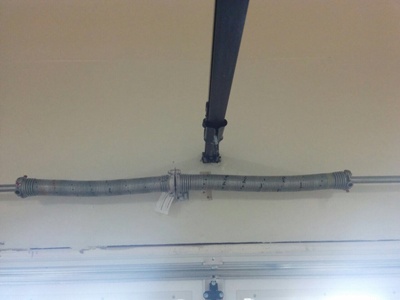 Torsion Spring Adjustment
When you have trouble keeping your overhead door closed or it's difficult to open, the torsion spring either has too much or too little tension. We will eliminate this problem with proper adjustment. This is not a DIY job as there is a considerable risk for people without the required skills. With accurate adjustment and rigorous testing, our technician will ensure that your door's optimal performance is completely restored.
Extension Springs and Safety
These springs are mounted above the horizontal tracks of the overhead door. When the door is closed, they are stretched and hold a large amount of tension. During opening, they release it to facilitate the process. What happens when they break? There are special cables holding them in place. Otherwise, they would shoot across the garage. When we replace extension springs, we in Garage Door Repair Harrison always set and adjust these cables accurately to ensure the highest level of safety for our customers.